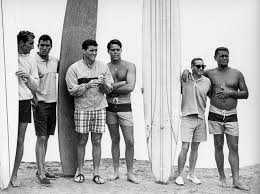 OUR
MISSION
WHAT IS PODALOHA?
PodAloha is a podcast dedicated to preserving the heritage of surfing and spirit of Aloha through shared stories from the pioneers of the sport. Hosted by the Ambassador of Aloha and living surf legend Paul Strauch, PodAloha features insightful interviews that span the evolution of wave riding, surf culture, board design and entertaining personal stories from the top surfers of their respective generations.
OUR
COLLABS
THE LOST & FOUND COLLECTION
The Lost & Found Foundation was created to support its surrounding community, as we couldn't exist without the talent, creativity, and generosity of the people who have contributed to our archives. A percentage of the profits from the Lost and Found Collection will go back to support the families of any Artists or surfers in need. Share and enjoy the ALOHA! A lot of the photos on the PodAloha site are from The Lost & Found Collection with a link to purchase.